MEO Sudoeste
Zambujeira do Mar, Alentejo, Portugal.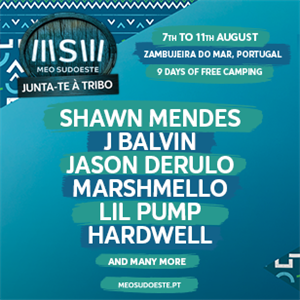 TICKET PRICES
Phase 1 : Before 31.12.17
FULL PASS - £100,00 / DAY TICKETS – £48,00 / VIP – £180,00
Phase 2 : 01.01.18 > 31.03.18
FULL PASS - £105,00 / DAY TICKETS – £50,00 / VIP – £190,00
Phase 3 : 01.04.18 > 31.07.18
FULL PASS - £115,00 / DAY TICKETS – £50,00 / VIP – £200,00
Phase 4 : 01.08.18 > 11.08.18
FULL PASS - £120,00 / DAY TICKETS – £55,00 / VIP – £210,00
Full passes must be exchanged for a wristband to gain entry, this will be put on the owner's wrist by the promoter at the entrance to the festival site. It must be kept on at all times during the festival duration. Day tickets: No re-entry / Camping not included.
Age Restrictions
6+ only. 6s to 11s must be accompanied by an adult and both must be ticket holders. 6s to 10s are entitled to a half price ticket. No refunds will be given for incorrectly booked tickets.
More information about MEO Sudoeste tickets
From August 7th to 11th a new edition of MEO Sudoeste will be held in sunny Portugal.
Camping site opens on August 4th and for a week MEO Sudoeste brings together tens of thousands of people around Music in six different stages!
On camping site you can find a community kitchen; a laundry space; groceries delivery which allows pre-orders; and many other amenities that bring comfort to festival goers.
Camping at the festival is free for anyone who buys a pass for the full festival, and free WiFi is
available across
the entire venue.
On these 9 day holidays, it is also possible to enjoy some of the most beautiful beaches in Europe located on the stunning Alentejo coastline or to dive in the natural water canal which is part of the camping site. The beach is just 5 minutes away, and the festival promoters are running free buses all day to help people to get there.
One of the best and most convenient summer festivals in Europe which can't be missed!

POINTS OF SALE

Buy tickets from official points of sale :

Blueticket- Call Center Informações e reservas 1820 (24 horas) / ABEP / Bilheteiras da Altice Arena / rede Pagaqui / FNAC e bilheteira.fnac.pt / Worten / Phone House / ACP / El Corte Inglés / Turismo de Lisboa

ACCOMMODATION & SERVICES

Combined Meo Sudoeste + Sumol Summer Fest Ticket
XBus
FESTICKET
Nomad Pop Up Hotel
Free Spirit Campers
CP

Spain
Seetickets
Festicket
XBus

United Kingdom
Seetickets
Festicket

France
Seetickets
Festicket

Germany
Seetickets
Festicket
Ticketmaster DE